---
Lately I have been looking for an MP3 player that would accept mini-SD (TF) cards or USB flash drive memory so I can listen to my extensive music and audio library. There are hundreds of models available in every price range. What I wanted was a player to play music without headphones.
What I settled for is an excellent portable MP3 Player / FM Radio combo. This player plays audio through a speaker or using an earphone. Speaker function is combined channel mono but the audio out jack for headphone or external speakers is stereo. The internal lithium battery charges in about three hours, giving the unit three to eight hours of playing time. Playing time depends on speaker loudness; the player can get very loud.
The model number is L-218.
It's available through Amazon, eBay and a few other dealers. The price range is $15 to $40 per unit!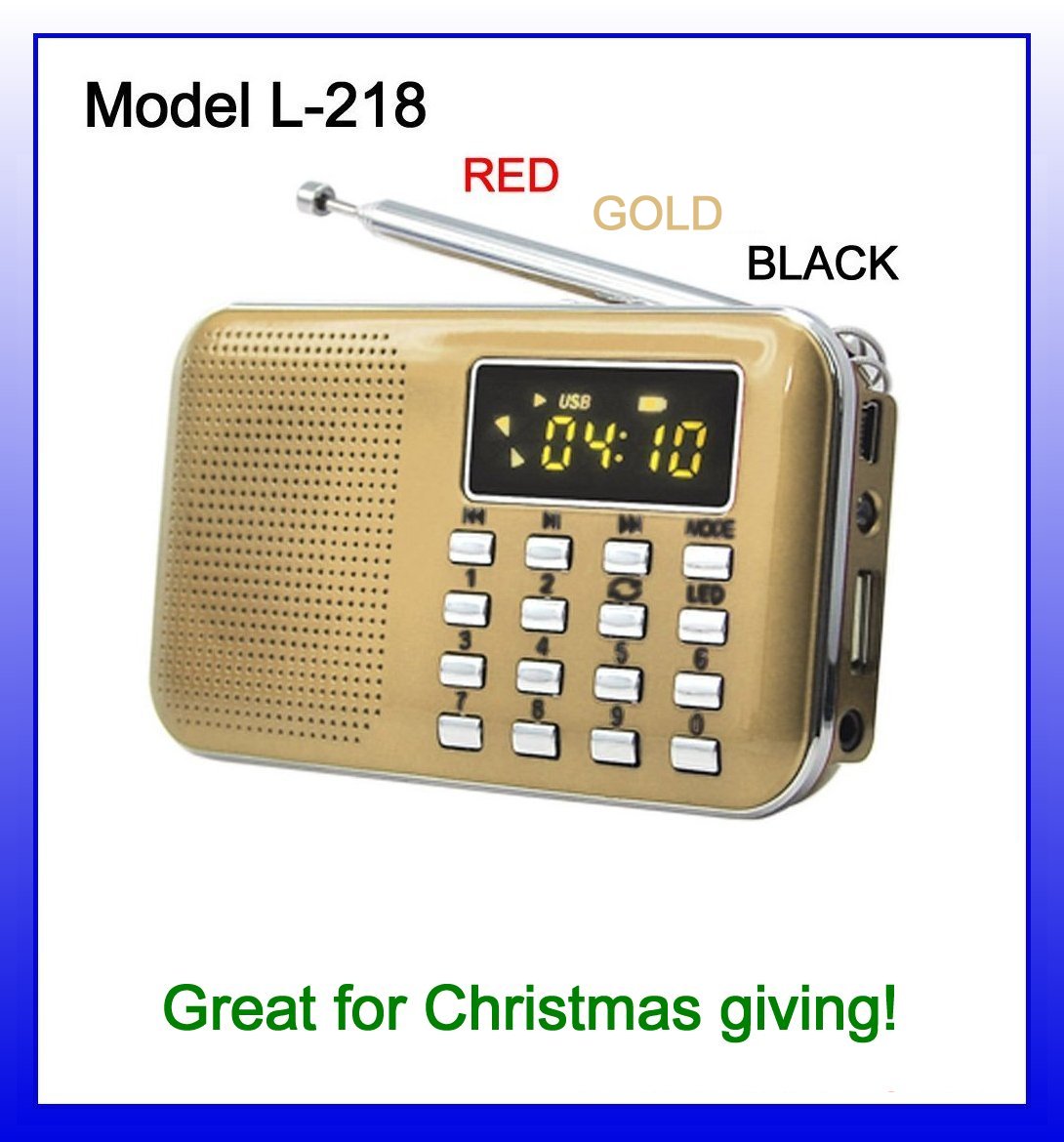 ---
Features (from Manufacturer):
–Can play MP3 music from TF card or USB flash drive(Max 16G), selectable;
–With FM radio, radio can automatically scan and memory channels;
–With audio line in jack, using micro USB-3.5mm audio cable, you can easily connect to other audio devices such as computer, MP3, MP4, mobile phones,iphones, PSP, stereo system, etc;
–Uses a rechargeable BL-5C Lithium battery, charges by connecting USB cable to computer or USB power adapter, or by universal charger, NOTE: NO data connection, only power connection here.
–With standard 3.5mm earphone jack, available for earphones to listen to radio and music;
–Available to select radio channels and MP3 music with 0-9 number buttons. It is user-friendly;
–MP3 repeating and looping function, can control to loop the current ONE/FOLD/ALL MP3 music;
–In MP3 mode, when powering off, plays back the current MP3 when powering up next time;
–This speaker is very mini portable and light, the thickness is only 2CM, really very easy to carry;
–It uses a special ultra thin bass speaker, which enables it to have a much better high-range and bass HIFI sound, which can not be solved if a normal quality thin speaker is used;
–With large LED colors flashing display screen;
–Made of ABS plastic(UV shell).
Christmas is around the corner.
---
Share